John Ntabaazi and the One Love Troupe
John Ntabaazi is one of the founders of "One Love Troupe". His passionate enthousiasm for music is the basis of a push towards a better future for children in pover circumstances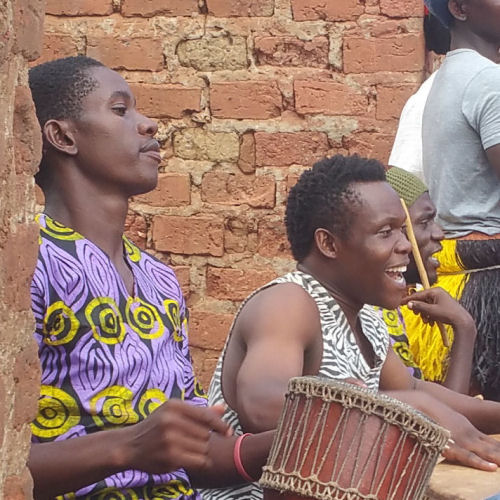 From early 2014 we supported John at secondary school. This support has been extended towards the African Institute for Music in Kampala, where John follows his third year (2018) in becoming a music teacher.

John is grateful for the support throughout the years. Whe he started his music academy lessons and observed the many children in his surrouondings in Kampala. having little education and possibilities, he decided to start helping them towards a better future.

John started to give some lessons in music, dance and singing, soon there were more children than possibilities. This led to the start of a team, named "One Love Troupe".

One Love Troupe is a group of 16 children. the learn fast and occasionally they are invited to parties, moreover they can be seen in a performance in their neighbourhood.

The One Love Troupe plays traditional Ugandan instruments, including various types of drums, xylophone, panflutes, adungus (a kind of stringed instrument). The music is used as an accompaniment to traditional singing and dancing.

From mid-2017, John has rented a 1-room cottage with the support of several sponsors to give these children shelter and from the start of 2018 6 children are being sponsored to go to school.

All free time that John has in addition to his education he spends practicing with the children and he also teaches them in English. It gives the children more self-confidence and again the prospect of a good future.